Artwork by Hansina Iversen.

Painting by Faroese artist Edvard Fuglø. Photo: Kimberley Coole

Artwork by Kirstin Helgadóttir displayed at the National Gallery.

Sculpture outside the Faroese Art Museum. Photo: Kimberley Coole
Translated from Danish by James Proctor
The history of visual arts in the Faroe Islands may well be relatively short yet it is certainly eventful, replete with contradiction and adversity; a history where creative forces have come to the fore despite the difficulties. 

LIGHT AND DARK
Light has played a key role in Faroese art from its very beginnings in the early 1900s. Indeed, light has shone through Faroese painting from the very first landscape depictions at the beginning of the twentieth century -- little wonder, when one considers the natural world of the Faroes and their northerly geographical location.
The use of darkness is no better portrayed than in the work of the pioneering painter, Sámal Joensen-Mikines (1906-1979), whose dramatic and symbolic depictions of death and loss still move visitors to the National Gallery of the Faroe Islands (Listasavn Føroya), which holds an excellent collection of Mikines's work – not least his dark paintings from the 1930s.
Mikines was the first professional visual artist to emerge from the Faroes, who lived and breathed his art and made a living from it. He was especially interested in the light and colour of the Faroese landscape, which he claimed the humidity in the air refracted in a special way and "often created a diffuse visual impression, which I have experienced when sea and sky merge into shades of pink and grey, brilliant in colour like a conch shell, or, equally, shafts of light that emerge from between great banks of dark cloud during a raging storm which light up the sea, rocks and green fields and our black houses. In both cases, the light is strong yet gentle at the same time."

FRENCH INSPIRATION
It is interesting and important to note that the brilliant light and vivid colours of Faroese art come not only from the islands' natural landscapes but also from the world of art. Despite the country's isolation when seen from the art academies and arts scene of big cities elsewhere, Faroese visual artists have been inquisitive from the very beginning and have learnt from other artists who came to paint the Faroe Islands. From that point on, many visual artists in the Faroes have pursued an art education at academies and art schools across the world. They first studied at the Academy of Fine Arts in Copenhagen where they initially took an interest in French visual artists, who, at the time, were also role models for the academy's Danish professors.
A particularly vibrant form of colourism was founded here which can still be seen in contemporary Faroese painting, for example, in the work of Zacharias Heinesen. Over the decades, Heinesen has played a key role in Faroese art and has exhibited since the 1950s, developing his own style which focuses on the motif of the tiny Faroese village beside the enormous ocean. Zacharias Heinesen is a central figure in Faroese visual art and has had a tremendous impact on art history in the Faroes. His compositions of brightly-coloured square and triangular shapes to represent mountains and houses have effectively formed a separate school within Faroese art. However, Heinesen paints nature in ever-changing light conditions, much as the Impressionists and Post-Impressionists did, and has consequently taken his imagery in an abstract direction. The landscape motif is seemingly employed to enable the painting of a surface in accordance with a specific pattern, often combining the use of basic and complimentary colours.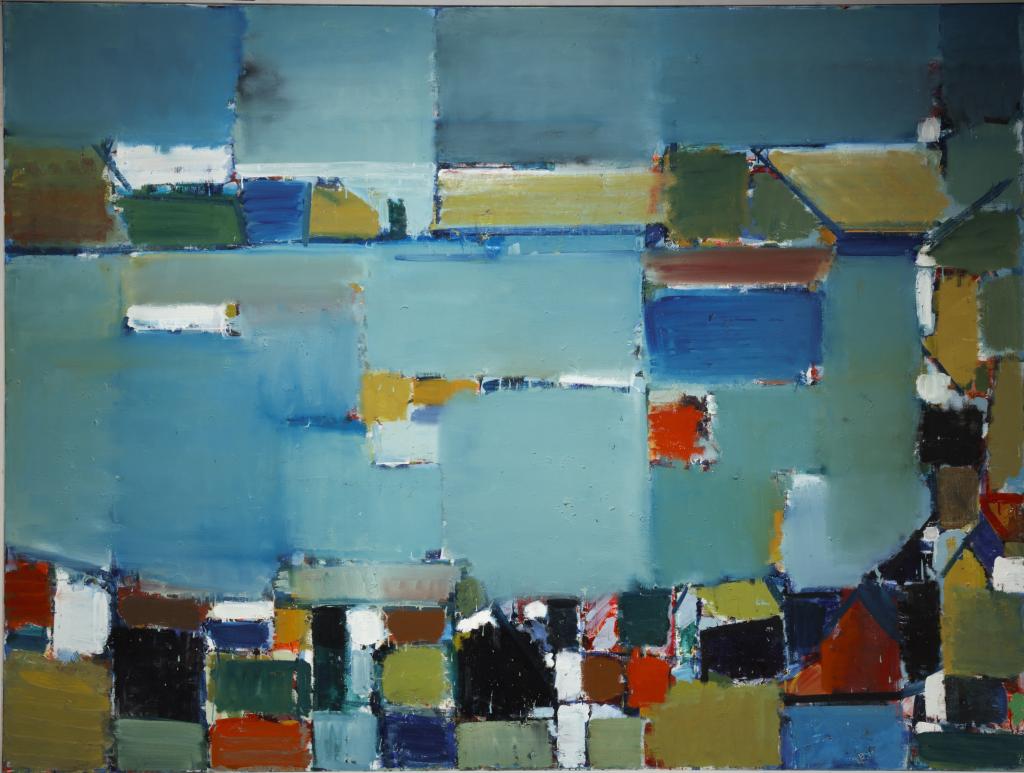 BEGINNINGS
Mikines's pioneering work opened the door to a whole generation of Faroese visual artists: Ruth Smith (1913-1958), Ingálvur av Reyni (19020-2005) and others who would study in Copenhagen and learn much from Professor Aksel Jørgensen and his ideas of colour theory. Those young artists found themselves in Denmark whilst the country was under German occupation and were consequently unable to return to the Faroes until after the end of World War II. The first exhibition of Faroese visual art was therefore held in the studio of sculptor, Janus Kamban, on Nørrebrogade in Copenhagen. The Faroese Art Association (Listafelag Føroya) was founded in similar student circles in the Danish capital in 1941. The Association still exists today to support Faroese art and artists by purchasing works that later become part of the collection of the National Gallery of the Faroe Islands.  
PIONEERS
The National Gallery of the Faroe Islands (Listasavn Føroya) is beautifully located in Viðalundin park in Tórshavn and, holding the world's largest collection of Faroese visual art, it's an obvious place to visit. In addition to temporary exhibitions, there is a permanent exhibition dedicated to Ruth Smith's powerful self-portraits from the 1950s. They are vivid and expressive masterpieces – witness how exceptionally finely the eyes and area of the face around them are painted with multi-coloured short brushstrokes that make the entire painting burst with life. Graphic artist, Elinborg Lützen (1919-1995), has also been of great importance and has influenced the field of linoleum printing which has reached new audiences, for example through the use of illustrations in school textbooks. The National Gallery also displays paper clippings by William Heinesen (1900-1991) who was extremely influential in Faroese art as it emerged from World War II. In addition to significant writing, painting and music production, he also disseminated art and literature as well as organising art exhibitions. 
His home in Tórshavn has been preserved and is well worth a visit. In the National Gallery's collection, you can also see unique paintings by Steffan Danielsen (1922-1976) who came from the island of Nólsoy, across the sound from Tórshavn. There is great loneliness in his works yet they also document the refined hand of an artist – the viewer cannot fail to be moved.  The sculptures and reliefs of Janus Kamban can be seen in many public places across the islands, including outside Eysturskúlin school in Tórshavn, where his shapely sculpture Boy with Sheep from 1981 is located. Kamban bequeathed his house in Tórshavn to art. Listamannahúsið in Dalatrøð operates today as a residence for visual artists. 
Ingálvur av Reyni denotes the next big breakthrough for Faroese art. He began with figurative, highly colouristic paintings with an emphasis on complementary colours, a style he had learnt from Aksel Jørgensen at the Academy of Art in Copenhagen. Over time his use of colour became somewhat muted until more recent years when the artist reached a new colouristic and compositional freedom in his magnificently expressive masterpiece that hangs, for example, in the Faroese Parliament in Tórshavn. This is an abstract painting yet is based on the Faroe Islands, the land and the people. 
Faroese landscapes have been the main motif in the islands' visual art for more than a century and have become a favourite subject for today's young artists who wish to interpret nature on their own terms. However, there are many distinguished names within Faroese visual art, all expertly portraying the sensuous nature of the Faroes' landscapes, be that in an abstract or concrete manner. Many can be seen in the National Gallery, including Bárður Jákupsson, for example, and Tróndur Patursson whose work focuses on mountains and the sea. Jákupsson has defined his artistic point of departure in the form of the dizzying experience of a small boat at sea, bobbing off a rocky coastline, where cliffs stand in dramatic silhouettes against the evening red of the sky. 
The artistic focal point for Tróndur Patursson is also the sea yet here it is more about the cosmic experience of our connection to nature, which the artist-turned-adventurer has experienced on his own epic sea voyages. Arnold Vegghamar has developed his form of expression from, originally, naturalistic landscapes moving towards powerful colouristic expressionism to his present simple and unostentatious style where he reinterprets the well-known theme of the Faroese village by the ocean with inspiration from his own surroundings at Viðareiði. He has repeatedly simplified this motif  -- an iconic theme which features in many paintings which hang in many islanders' homes. 

NOTABLE ART HISTORY MENTIONS
Faroese visual art has never been as diverse or as exuberant as it is today. Given the size of the Faroe Islands, there is an unusually large number of talented visual artists working and exhibiting in the country. Several artists work across different genres and combine them, for example, Tóroddur Poulsen has produced a number of graphic series at Steinprent which have become classics within Faroese contemporary art. His approach to art is simultaneously sarcastic and heartfelt -- his lithography and paintings are elegant and anarchic at the same time whilst pictorial elements and handwritten words and sentences flow together in a poetic universe. 
Randi Samsonsen crochets and knits the most wonderfully soft and organic sculptures which make the material itself the key player in the expression of her work. She experiments with fixed parameters, exhibiting her work, for example, in unusual locations such as a supermarket, a swimming pool and a library. 
The choice of material is also significant in the reliefs of Jóhan Martin Christiansen which consist of plaster casts with pieces of cardboard. This clash of materials lends a contradictory association to the idea of hard and soft, strong and fragile, yet there is also a poetic presence to his work and its titles through the multifaced technical use of installation, sculpture and video. Through his exploration of materials, the essence of man and the force of nature, Jóhan Martin Christiansen's work is in line with that of several other young artists who have been inspired by him. Alda Mohr Eyðunardottir, for example, employs eco-criticism, poetry and a steely determination to include natural materials on their own terms. However, the work of Anný Djurhuus Øssursdóttir contains a note of humour and whimsical surrealism in its execution – as well as a much-needed tender look at nature and ourselves.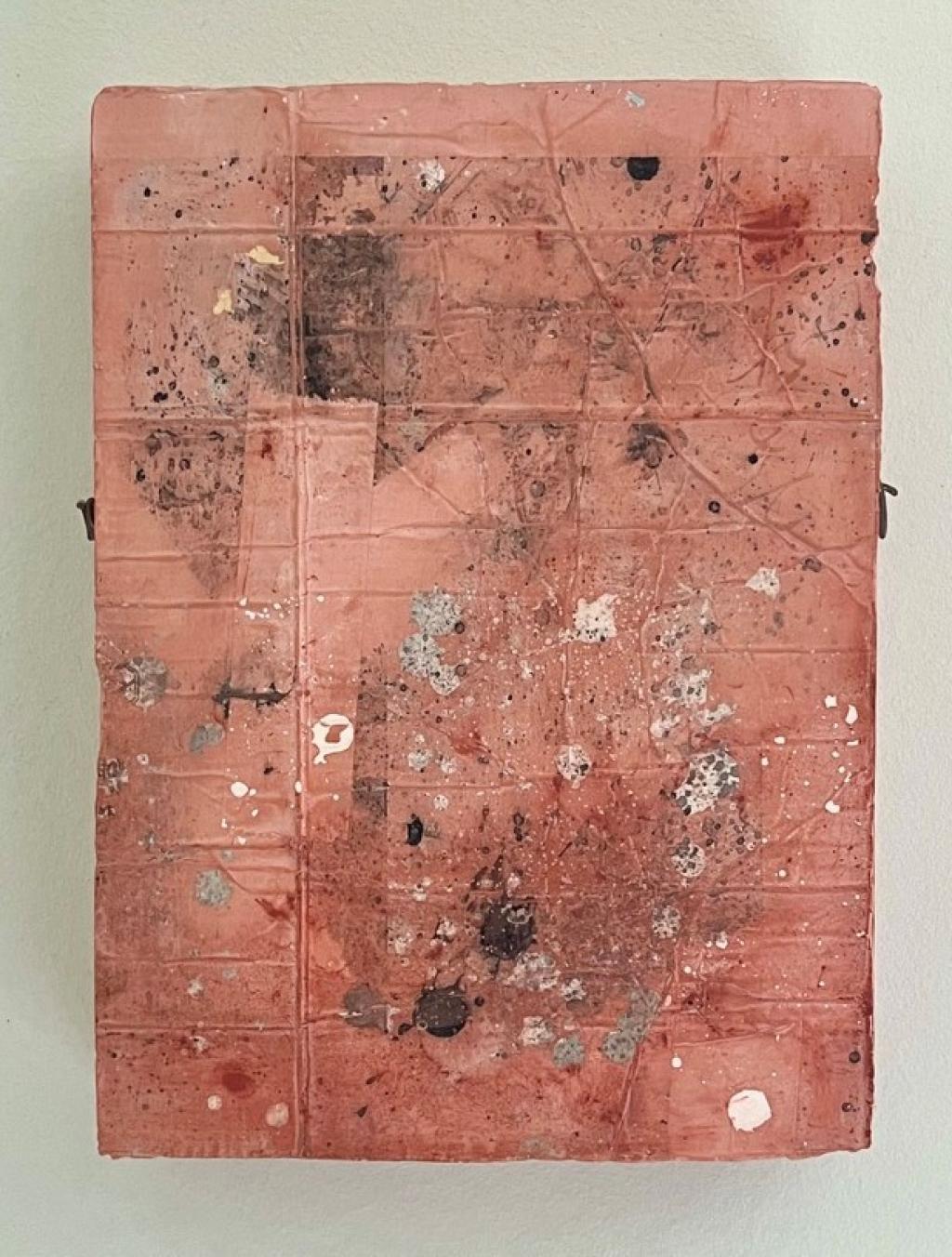 Jóhan Martin Christiansen
i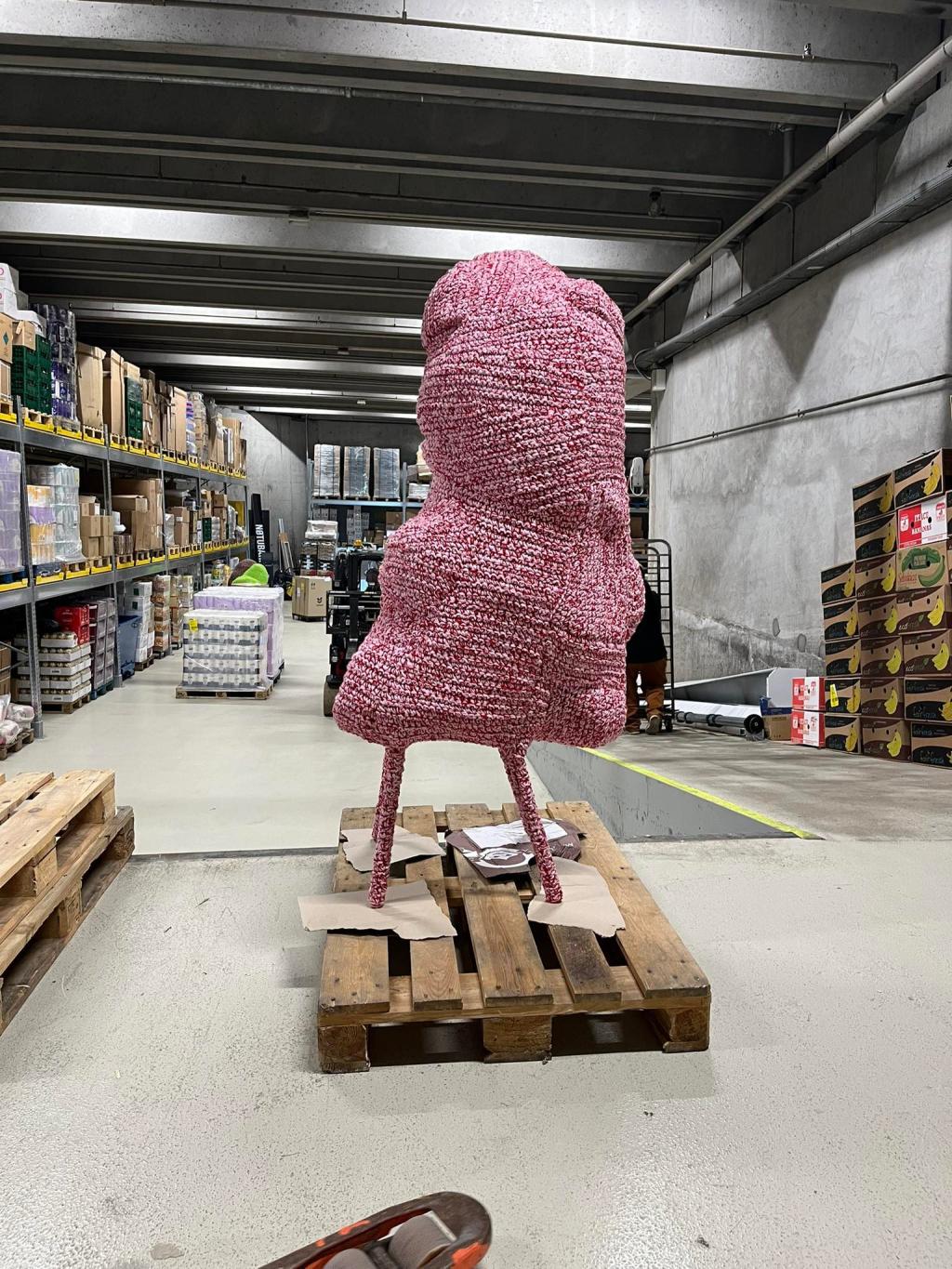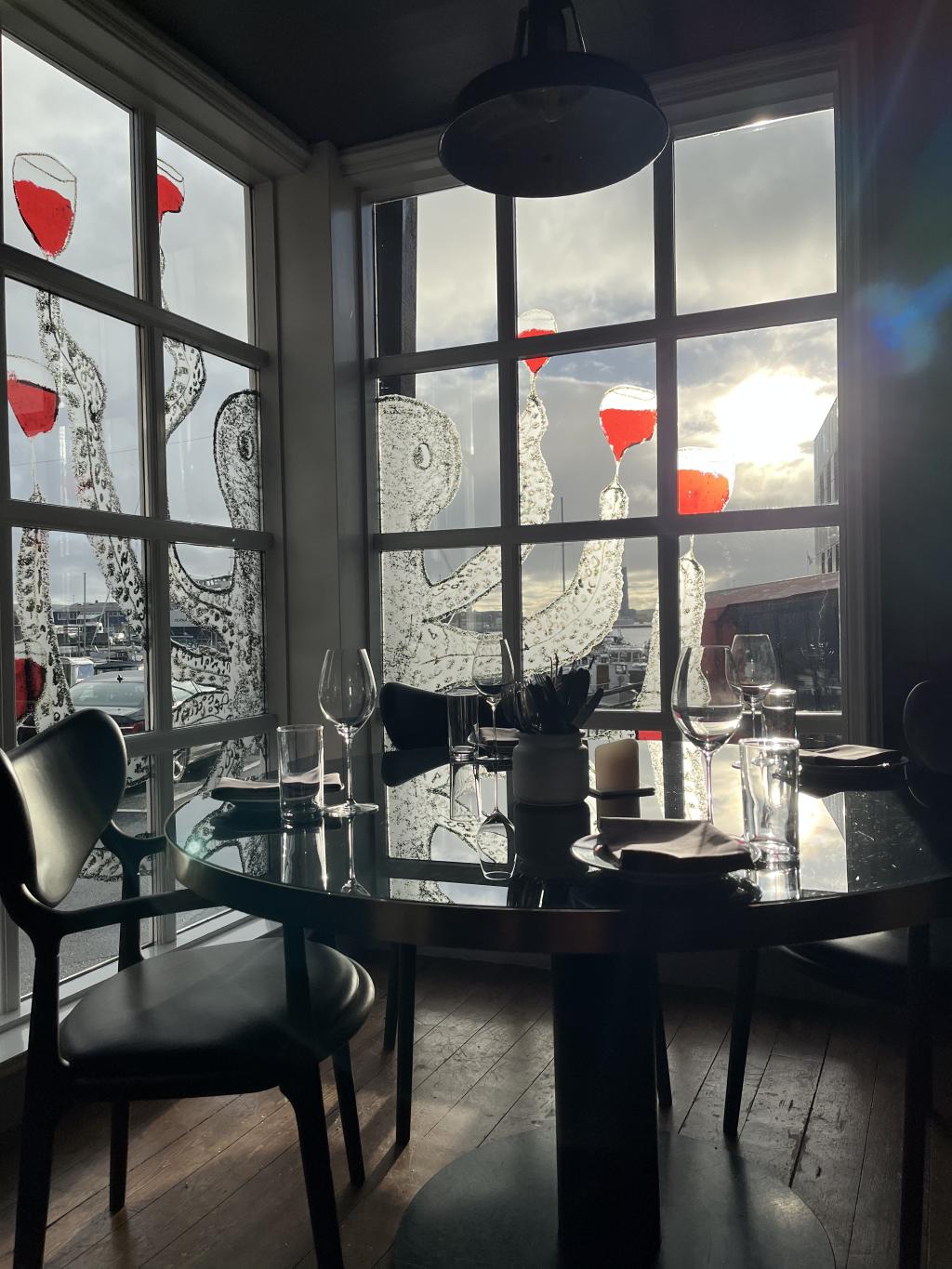 Hansina Iversen paints non-figurative images with partially transparent and opaque organic forms that appear to oscillate back and forth before the viewer depending on where one focuses one's gaze. All in all, these images are very sensual and corporeal – not least in the way the paint is applied to the canvas in strokes from which we sense the artist's movements. Working with Jóhan Martin Christiansen, Iversen created the Lonely Hearts exhibition at the MEST shipyard in 2018 which concentrated on the ephemeral element of art – once the exhibition closed, all works were disposed of and painted over. The transitory, short-lived element of things also characterises paintings by Rannvá Kunoy which emit an unusual glow as a result of the use of a special iridescent crystal pigment that changes colour according to the light in the room and the position of the viewer. These works appear immaterial in their substance yet also demonstrate the hand of a technically competent artist who is able to portray a sense of a frame around a pictorial space of great depth through the use of uneven markings around the edges of paintings. The surface of the image is bursting with signs and marks which give the impression that something is about to appear or disappear.