Motorists are obliged by law to use headlights at all times, day and night. Photo: Tobias Meyer - @cosmokoala

Photo: @wesleyoverklift II

Public transport around the islands is efficient and wallet-friendly as ferries are government-subsidized. Photo: @black.sail

The general speed limit is 50 km/h in urban areas, and 80 km/h on asphalt roads and gravel roads in rural areas. Photo: @bobbyanwar

Faroese artist Tróndur Patursson has created the artwork in the roudabout in Eysturoyartunnil. Photo: Ólavur Frederiksen / Faroephoto.com
BY VEHICLE
Exploring the Faroe Islands' beautiful landscapes by car, campervan, bus or motorcycle is a popular way of getting around. It's easy, flexible and you can decide your own pace – just like a true Faroese.
Most islands are connected by an excellent infrastructure of roads, bridges and subsea tunnels, making it effortless to get around.
For example, you can take in the majestic view of Múlafossur waterfall in Gásadalur, explore the breathtaking gorge in Gjógv and hike out to the Kallurin lighthouse on Kalsoy all in one day – and even make it back in time for a lamb roast dinner in Tórshavn. (This is, of course, dependent on how many photos you plan on taking at each location – which is usually quite a lot!).
PLEASE READ BEFORE DRIVING IN THE FAROE ISLANDS
All major highways are paved, but some roads, especially to the smaller villages, are still gravel roads. Make sure to navigate these roads with care, as loose gravel can make driving difficult. Many roads and tunnels leading to villages can be very narrow, so please choose a safe speed according to the conditions. Note also that some roads are very narrow. To keep traffic flowing, these roads have lay-bys (widened sections formed to one side as to leave the road free for other to pass). These lay-bys are NOT to be used for parking.
The general speed limit is 50 km/h in urban areas, and 80 km/h on asphalt roads and gravel roads in rural areas. Road maps are a good help so make sure you bring one along before you start your journey. These can be picked up at regional information centres across the country or viewed online here.
Motorists are obliged by law to use headlights at all times, day and night. Passengers in the front and back seats of an automobile are required by law to use safety belts. Talking on a mobile phone and driving under the influence of alcohol are strongly prohibited.
GUIDE TO DRIVING IN THE FAROE ISLANDS: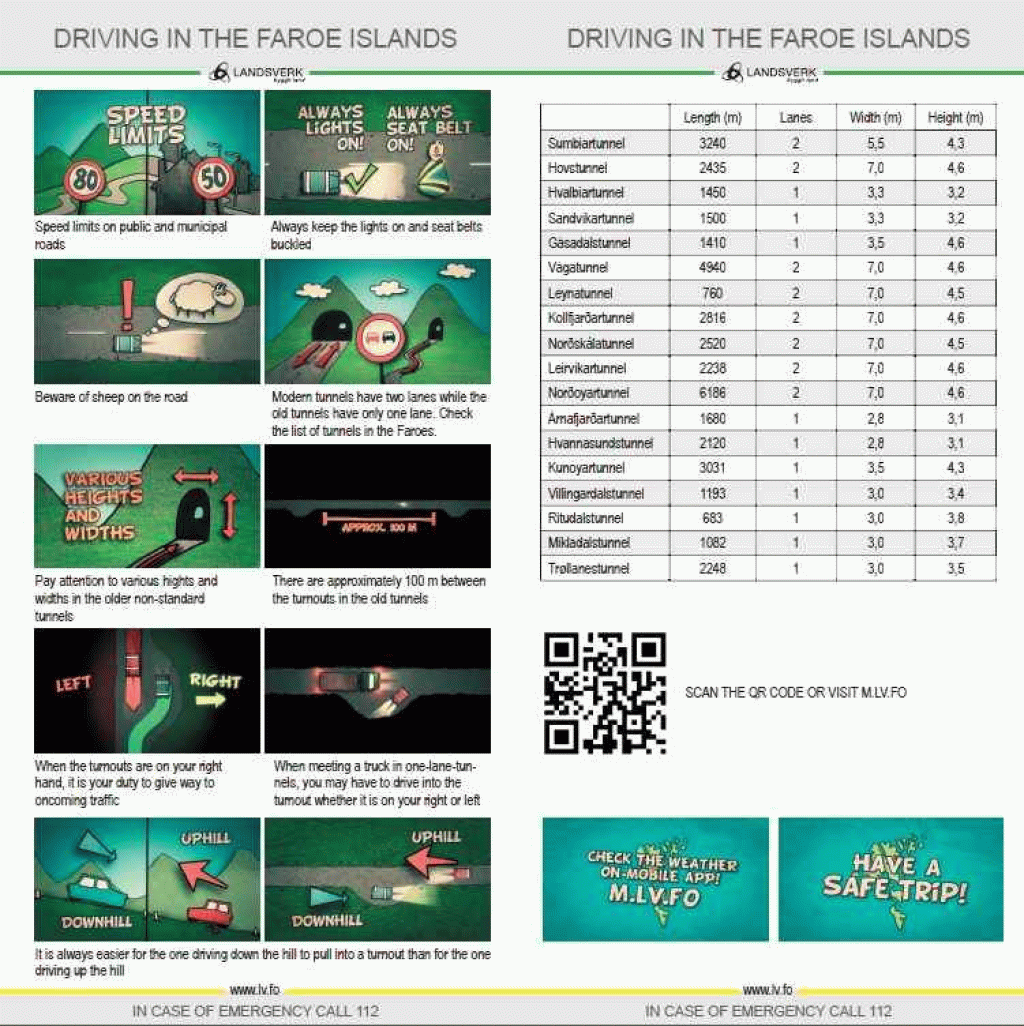 ACCIDENTS
In case of an accident, please contact the Faroese Police by calling +298 351448. If the accident is an emergency, please call 112.
Please note that sheep tend to enjoy walking on roads, regardless of traffic. If you hit a sheep, please report this to the Faroese Police by calling +298 351448. You will not be required to compensate the farmer for lost income. However, if the accident is not reported to the police, the farmer is unable to apply for reimbursement from their insurance company. By reporting the accident, you are helping the farmer.
OFF-ROAD DRIVING
Off-road driving in the Faroe Islands is prohibited by law. Please respect the nature and stay on paved roads.
PARKING
Parking in Klaksvík, Tórshavn, Runavík and at Vágar Airport is restricted. Parking discs must be displayed in the lower right-hand corner of the front windscreen, showing the time you parked your car. These display discs are available at no charge from banks and regional tourist centres across the country. Parking violations will incur a fine of DKK 200.
FILLING STATIONS
Filling stations are located on most islands. Distances between filing stations may vary so make sure you have enough fuel to reach the next one.
SUB-SEA TUNNELS
There are three sub-sea tunnels in the Faroe Islands: Vágatunnilin, Norðoyartunnilin and Eysturoyartunnilin. All require a toll payment. Prices vary.
Vágatunnilin connects the western island of Vágar (Airport) to the island of Streymoy (capital Tórshavn). If you arrive by plane and plan on visiting other islands besides Vágar, you will need to drive through this tunnel. You only pay for one stretch of the journey, when travelling from Vágar.
Norðoyatunnilin connects the northern island of Borðoy (Klaksvík) to the island of Eysturoy (Leirvík). You only pay for one stretch of the journey, when travelling from Klaksvík.
Eysturoyartunnilin connects the island of Streymoy (Tórshavn, the capital) with the island of Eysturoy (two towns: Strendur and Runavík). In this tunnel, you pay both ways.
There are no pay stations at the tunnels. You can choose to pay online, or drive through the tunnel without stopping and pay at one of these petrol stations:
Effo – Kollafjørður
Effo – Gundadalur
Effo – Klaksvík
Magn – Klaksvík
Magn – Gøtudalur
Effo – Leirvík
Magn – Miðvágur
Payment must be made within three days. If payment is not made, the bill will be sent by post to the owner of the car.
Visit tunnil.fo for more information.
VIDEO GUIDE TO DRIVING IN THE FAROE ISLANDS
Safe travel
Although the Faroe Islands is one of the safest countries in the world, travelling in the Faroe Islands might be different to what you are used to. It is important you are well aware of things like weather extremes, narrow, windy roads, and different road rules before you begin your journey.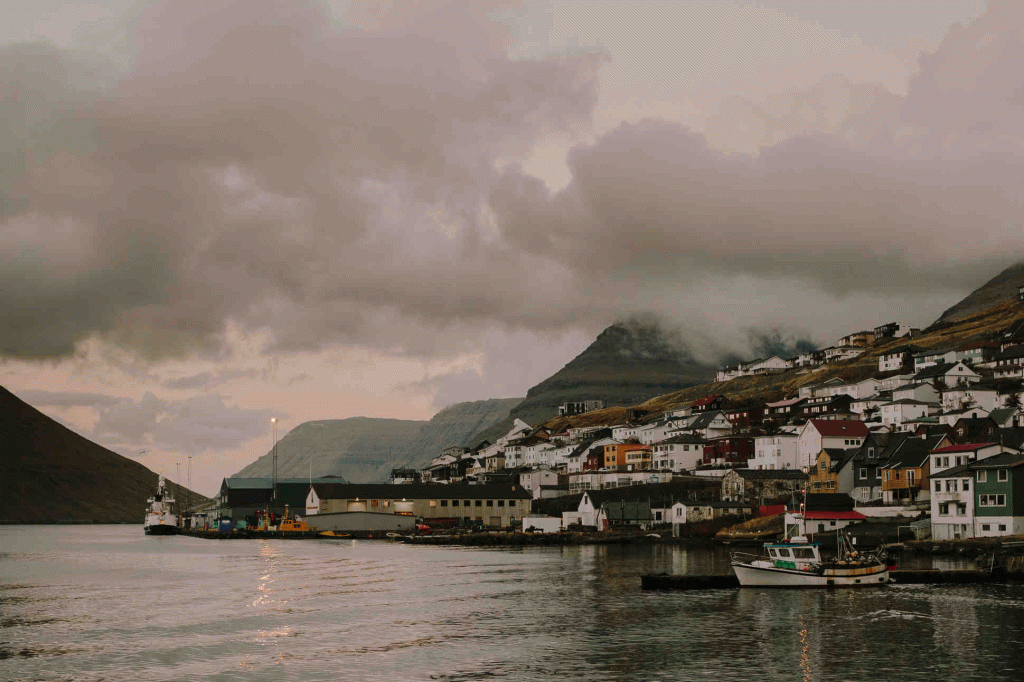 CAR RENTAL
There are several car rental agencies in the Faroe Islands. Cars can be booked through the rental agencies' websites, a travel agent, or directly upon arrival at the airport in Vágar. Many types of cars are available, from small family cars to powerful SUVs. The cars can easily be picked up and dropped off at the airport.
Notice that some of the car rental companies are located at the airport and some are not. Some offer pick-ups and drop-offs at the airport and some do not.
See an overview of car rental companies here.
PUBLIC BUS & FERRY
Public transport around the islands is efficient and wallet-friendly as ferries are government-subsidized and can cost as little as DKK 15. If you purchase multi-day Travel Cards (DKK 500 for 4 days), they can be used on all buses and ferries, with the exception of the one to Mykines. Additionally, you can catch a bus that travels around Tórshavn, including to the historic village of Kirjubøur. If you have the time to travel according to the pace of the timetables, you won't need to rent a car or book a bus tour.
More information about getting around in buses and ferries can be found here.
GUIDED BUS TOURS
Many tour operators and on-location coordinators provide guided bus tours to a variety of locations in the Faroe Islands.
HELICOPTER
Helicopter travel is subsidized by the government so that locals can live on some of the archipelago's more remote islands, hence this form of transport is mostly reserved for local residents. However you can during the peak seasons find specific sightseeing tours arranged by Atlantic Airways, so we recommend you keep an eye on their website. Should you wish to book a standard ride, please keep in mind that since the helicopter subsidy is a community initiative, it is only possible for tourists to book a one-way trip and booking is possible 2 days prior to departure (traveling the return trip with a ferry or by bus depending on the destination).
SHUTTLE TO & FROM THE AIRPORT
Make sure to book transport from the airport to your place of accommodation in advance. Take the bus or order a taxi from one of these taxi services.